What can I use to clean my car?
For many car/vehicle owners, washing it by hand is a therapeutic act as beneficial for the person's state of mind as to the car's appearance!
We list below the items you'll find helpful to use for the job, but first, here's a quick guide to the cleaning process, in case you're new to cleaning a car…
The general car cleaning process
Rinse using a hose to remove the bulk of the dirt and grit.
Use a good quality sponge to apply your cleaning product (such as Alphawash). Apply evenly to lower surfaces of the car and work upwards to avoid streaking.
Rinse as you go where possible, instead of soaping the whole car in one go. Split the car into segments.
Dry off using your choice of either chamois or microfibre cloths.
Open the doors and boot in turn, cleaning around the door edge and side panels using a damp cloth.
Don't forget the wheels – use a brush or sponge (not the one you used to clean the bodywork) and more Alphawash or similar product.
What to use to clean your car
We put together a great package for you, so that you can buy everything below in one go! Get the Car Cleaning Pack here.
There are some essential items to help clean your car inside and out! These are our recommendations:
A Caddy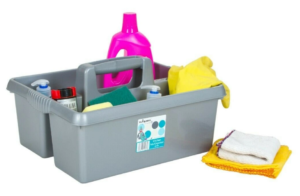 Some form of holder for your car cleaning materials and equipment is very helpful for saving time and knowing where everything is. When it's time to clean the car, just grab your caddy!
Alphawash
A multipurpose, non-caustic traffic film remover for cleaning all types of vehicles. Ideal for cars, coaches, light commercial vehicles, trailers, caravans, etc.
De-icer
Super De-icer rapidly melts snow and ice from windscreens and other hard surfaces.
Carpet and upholstery stain remover
Super Carpet & Upholstery Stain Remover provides a quick, safe solution for most common stains. Its Woolsafe approved formulation will not damage or discolour fabrics and will help to avoid resoiling. Safe for use on most fabrics and carpets.
See full details about the Car Cleaning Pack…
As mentioned, washing your car by hand can be very therapeutic. Happy cleaning!