RESTORING YOUR PREMISES TO THEIR FORMER GLORY
We use a revolutionary industrial pressure rotary cleaning system. Our machines are purposefully designed to restore hard working surfaces by providing a unique deep cleaning, effective enough to remove unsightly tyre marks, most oil stains, weeds/mosses and slippery algae.
Our professional restoration service can clean and restore a wide variety of surfaces using a chemical free industrial high pressure water system.
We would love to hear from you if you have any questions, or require a free, no obligation quote…
Alpha Power Cleaning prides itself in the cleaning of block paving and car parking for businesses up and down the country, we also provide an equally superior tarmac cleaning service.
Commercial window cleaning across the UK, an excellent service for an affordable price.
Keep your business' guttering clear to prevent further problems, with our guttering cleaning and maintenance
service.
WALLS, FASCIAS & BRICKWORK
We only invest in the highest quality machinery and equipment, which enables us to give the highest quality clean for your brick-work and fascias.
"I have had several feedback comments from employees saying what a difference it has made to the general appearance of our facility." Michael Avery, Manager LuK
HELPING YOUR BUSINESS ATTRACT MORE BUSINESS
Of course you want to make the best first impression. But did you know that regular cleaning (both inside and out) does more than keep a building spick and span?
• Regular cleaning can prolong the life of a building. That's because industrial cleaning removes the mould, mildew, and algae, which causes discolouring and premature deterioration. It's not just about removing visible dirt.
• The risk of pest infestation is reduced in a clean, well maintained building.


• Regular cleaning ensures your building always looks nice and keeps it looking cleaner for longer.
• Your staff will feel more pride in their place of work if it's kept clean. This in turn can boost employee morale, increase productivity, and therefore influence your profits.
• A clean workplace helps you meet your legal requirements under the Health & Safety at Work Act.
• Keeping dust and dirt under control can help visitors and employees who suffer from respiratory issues. In addition, bacteria and viruses can thrive where there are lots of people. Clean premises can cut the risk of infection and a happier, healthier workforce takes fewer sick days.
FREE SURVEYS | FREE ESTIMATES | FREE DEMONSTRATION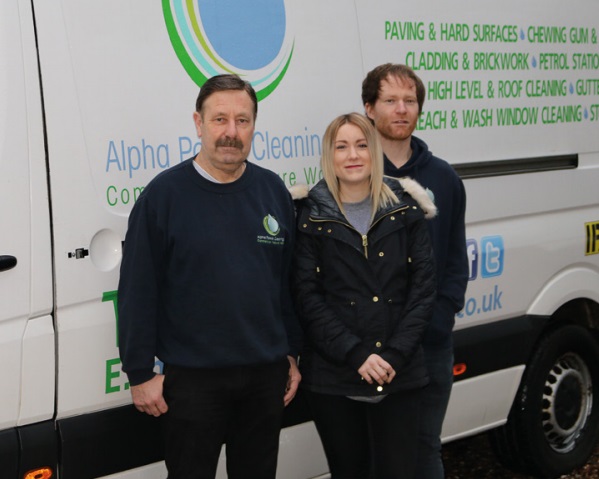 Neil, James and Alice of Alpha Power Cleaning, are a Midlands based, Commercial Cleaning company, operating nationwide. Having over 10 years experience in the field, we can tackle any commercial cleaning applications.
We are fully accredited with the relevant authorities, so you are safe in the knowledge we are the right team for your needs. We invest only in the highest quality, most modern equipment, which allows us to provide the best possible service to our clients. We have a large team and fleet of vehicles, all highly-specced, and a wide remit of different applications we can apply them to, from brick and block work, to tarmac and concrete, no job is too much to handle. Our years in the business have enabled us to build a highly respectable reputation, and references of the highest repute across many different businesses.